E-ZPass Discount Plans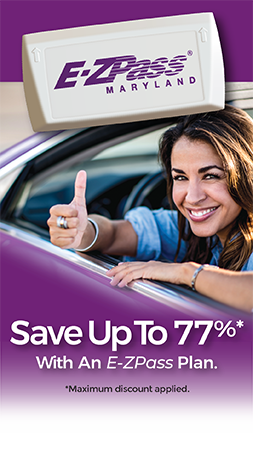 DriveEzMD.com offers a range of E-ZPass discount plans optimized for commuters and other frequent toll facility users who have an E-ZPass Maryland.
About E-ZPass Maryland Plans
Only E-ZPass Maryland users are eligible for discount plans.
You may select one or more plans for each transponder when you sign up. You may change your plans at any time. Just log in to your account!
All two-axle discount plans are transponder-specific. Plans cannot be shared between transponders.
If more than one E-ZPass discount plan is selected for a transponder, the lowest applicable toll rate for a facility will be charged to your account.
Unused trips are charged to your account at the end of the plan period and are not refundable.
For additional information about Discount Plans, visit our Discount Plan FAQs. 
* William Preston Lane, Jr. Memorial (Bay) Bridge Shoppers Discount Plan is valid for 90 days. Plan cycles do not apply to the Thomas J. Hatem Memorial Bridge Discount Plans.
Plan Details
Not sure which discount plan is right for you? We're here to help! You can contact us online, by phone or in person:
Two Axle Vehicles
These discount plans are available for all two axle vehicles whether they are enrolled in a private or business account:
Five or More Axle Vehicles
E-ZPass Maryland business account holders will be automatically enrolled in these discount plans for vehicles with five (5) or more axles:
Post-Usage Discount Plan
Supplemental Rebate Plan
Discounts for both plans are credited to accounts thirty (30) days after completion of a cycle.
The Post-Usage Plan adds a discount to business accounts based on all transponders assigned to five (5) or more axle vehicles that are used at eligible facilities.
The cycle begins on the date of the first toll transaction and runs for thirty (30) days thereafter. For example, if you open an account on November 3 and your five axle vehicle uses an eligible facility on November 6, discounts will be applied on:
December 6
January 5
February 4
Calculation of the post-usage discount is based on toll usage and does not include any applicable fees that may have been deducted from your account during the calculation period.
$150.00 to $1,999.99 of toll usage – 10 percent discount
$2,000.00 to $7,500.00 of toll usage – 15 percent discount
Over $7,500.00 of toll usage – 20 percent discount
The Supplemental Rebate Plan is applied to individual transponders. The rebate is based on the number of trips made with a single transponder assigned to a five (5) or more axle vehicle that is used at eligible facilities.
Because tolls are only collected in one direction at the John F. Kennedy Memorial Highway, Thomas J. Hatem Memorial Bridge, Governor Harry W. Nice Memorial Bridge and the William Preston Lane, Jr. Memorial (Bay) Bridge, each trip on these facilities will be counted as two trips.
The cycle begins when you open your account and runs on the same day each month. For example, if you open an account on November 3, rebates will be applied on:
December 3
January 3
February 3
Rebates are applied as follows:
60-79 trips per transponder – 10 percent rebate
80-99 trips per transponder – 15 percent rebate
100 or more trips per transponder – 20 percent rebate
The following Maryland toll facilities are eligible for the Post-Usage Discount Plan and the Supplemental Rebate Plan:
Baltimore Harbor Tunnel
Fort McHenry Tunnel
Francis Scott Key Bridge
Governor Harry W. Nice Memorial/Senator Thomas "Mac" Middleton Bridge
John F. Kennedy Memorial Highway
Thomas J. Hatem Memorial Bridge
William Preston Lane, Jr. Memorial (Bay) Bridge