How to Mount Your Transponder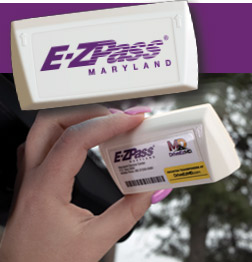 You must mount your transponder in accordance with the instructions provided below. If your transponder is not properly mounted, your transponder may not be read, and you may incur a higher toll rate as a result. You will be responsible for paying the higher toll rate.
Sit inside your vehicle facing forward. Select a location behind and to the right of the rearview mirror. The spot should be at least 1″ below the vehicle's frame and at least 1″ to the right of the rearview mirror, and not within any tinted area. The area should be clean and dry.
Do not remove the adhesive fasteners from your transponder. Simply peel off the plastic backing to reveal the sticky surface of the fasteners.
With the E-ZPass logo facing you, right side up, affix the entire E-ZPass transponder to the selected spot on the inside of your windshield.
Press the entire transponder assembly firmly into place. Hold for two seconds. The installation process is now complete.
Additional fasteners are available if you need to transfer your E-ZPass transponder to another two-axle vehicle listed on your account. To request additional mounting strips, please sign in to your account and click on Contact Us, located in the menu that is accessible in the top left of the screen. Within the Contact Us form, select Transponder Supplies in the drop-down menu. If you are already signed in to your account, click here.
You may also call 1-888-321-6824 or visit one of our Customer Service Centers to obtain additional mounting strips. For a full list of Customer Service Centers, please click here
Download a PDF of the windshield transponder mounting instructions.
Identify the front of the transponder and have this side facing out.
When mounting the transponder, make sure no characteristics are covered on the license plate. Characteristics include the name of the state, the letters and/or numbers of the plate ID, and any validation stickers or tags.
For more information, please chat with us or contact us by phone, email or at a Customer Service Center.
If the transponder is properly mounted and your account is in good standing, but one or more of the following circumstances occurs, contact us for assistance.
The toll rates that are being deducted from your account are higher than they should be based on your enrolled discount plans
You have received a Notice of Tolls Due (NOTD)
You have received an "Invalid Tag" message on the patron display