How Does E-ZPass Work?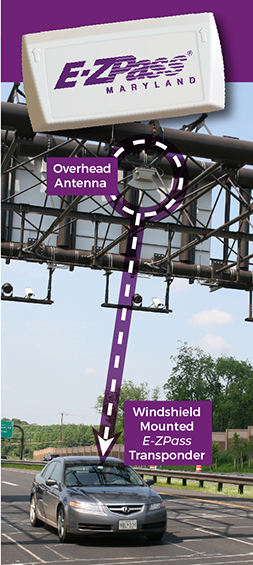 E-ZPass is an electronic toll collection system that allows you to prepay your tolls at a reduced rate.
The system has two components:
a transponder attached to your vehicle
an overhead antenna at the toll facility
Each time you travel through a participating toll facility, the overhead antenna reads the toll transponder attached to your vehicle and deducts the toll from your account.
Getting Started with E-ZPass
There are two ways to get started with E-ZPass:
Purchase an E-ZPass On the Go at one of our participating retailers. E-ZPass On the Go is a packaged transponder with a pre-paid toll balance of $25 that's available to use immediately. You must register your On the Go transponder within seven days of first use.
Alternatively, you can sign up for E-ZPass online. You will be required to deposit $25 into your E-ZPass Account as a starting toll balance. Your transponder will be mailed to you within 7 to 10 business days.
Your transponder will come with detailed instructions that will show you how to attach the transponder to your vehicle. You may also download the instructions. It is very important that you mount the transponder according to the instructions provided. 
Transponder Costs and Fees
In Maryland, windshield mounted E-ZPass transponders are free. License plate mounts are available for a modest fee.
There are no monthly or annual fees for Maryland residents. Out-of-state residents who have fewer than three trips at Maryland toll facilities each month during the prior statement period will be assessed a maintenance fee.
Save Even More with E-ZPass Discount Plans
E-ZPass account holders are eligible to receive even deeper discounts by enrolling in one or more 
E-ZPass discount plans. E-ZPass discount plans are optimized for commuters and other frequent toll facility users. Select one or more discount plans when you sign up for E-ZPass, or login to add or remove a discount plan from an existing account.
Your Account Balance
A monthly or quarterly statement that shows each transaction and your account balance will be mailed or emailed to you. You may also check your account balance by logging in to your account or by calling our automated telephone system at 1-888-321-6824.
How to Replenish Your Account
As you travel through participating toll facilities and tolls are deducted from your account, your account balance will decrease. Eventually it will need to be replenished.
You may replenish your account by cash, check, money order or credit card:
If you typically pay by cash or check, you will see a "low balance" message as you pass through the toll facility, reminding you that your account will need to be replenished soon.

To pay with cash, please visit one of our Customer Service Centers
To pay by check or money order, visit one of our Customer Service Centers during business hours (or use the 24/7 drop boxes outside of centers at MDTA toll facilities), or mail your payment to:
DriveEzMD Customer Service Center
P.O. Box 5060
Middle River, MD 21220-5060
Credit card accounts are automatically charged when your balance drops below a certain threshold. The threshold and replenishment amounts are set based on your usage patterns.
How to Get an E-ZPass
There are four ways to sign up for E-ZPass in Maryland: