Pay-By-Plate FAQ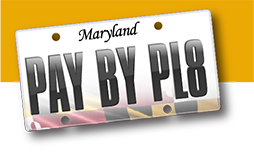 Have a question about Pay-By-Plate? Check out this FAQ.
Questions about other programs may be answered in one of our other FAQs:
Related To This Section
Save More with E-ZPass
E-ZPass is the easiest and most economical way to pay tolls in Maryland. Sign up free to save up to 77% on Maryland tolls.