How Does Video Tolling Work?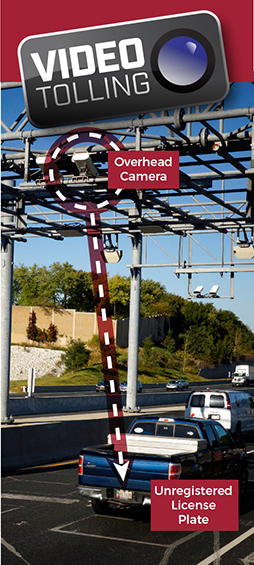 Drivers who use Maryland toll facilities without an E-ZPass or Pay-by-Plate account will receive a Notice of Toll Due (NOTD) in the mail. NOTDs can be paid through this website and may qualify for a discount if the NOTD has not been mailed.
Each time you travel through a Maryland toll facility, a camera takes a photo of your unregistered license plate. The system then sends a Notice of Toll Due to the registered owner of the vehicle, based on MVA/DMV records for your state.
Getting Started with Video Tolling
There's no need to sign up or install a transponder in your vehicle. Just go!
Toll Rates and Fees
Video Toll rates are 1.5 times the base toll rates with a minimum of $1/maximum of $15 above the base rates. Video Toll rates are the highest rates to offset the higher cost of processing Video Tolls. To calculate tolls for your trip, visit the Toll Rate Calculator.
Keep in mind, E-ZPass remains the easiest and most economical way to pay tolls in Maryland. Save up to 77% by switching to E-ZPass.
How to Pay Tolls
When you receive a Notice of Toll Due (NOTD), follow the instructions on the notice to pay your toll. You also may check here to see what Video Toll transactions for your vehicle are available for payment.* Keep in mind that strict due dates apply. You may incur penalties for each Video Toll transaction if you fail to pay by the NOTD due date.
To save money by prepaying your tolls or paying automatically using a credit card, consider E-ZPass or Pay-By-Plate.
*NOTE: Between March and October 2020, to help provide some financial relief during the COVID-19 pandemic, the Maryland Transportation Authority (MDTA) paused mailing Notices of Toll Due for drivers who used our toll facilities without E-ZPass. Please regularly check to see which of these transactions for your vehicle have been processed in the system and are available for payment.